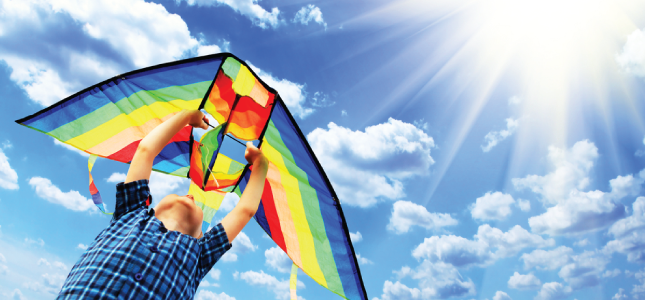 Roadside vendors are also out in abundance as they aim to capture the attention of both adults and children with their vibrant kite displays. In years gone by, the Garrison Savannah was the place to be on Easter Monday as this was the venue for the kite flying competition. A competition that saw the extent of the kite-making creativity found on this island. From the smallest to the largest kite with all sorts of descriptions in between. These days, that particular competition is no longer but many are still seen out with their kites enjoying the historic grounds of the Garrison Savannah at Easter time. There are still a couple kite flying competitions on the island that essentially aim to revive the kite flying tradition as such a tradition has declined over the years with the advent of technology being the prevailing source of 'entertainment' for most.
Do bear in mind that kite flying is prohibited in some areas on the island based on a release issued by the Government Information Service (GIS). The Civil Aviation Department has advised persons that the Civil Aviation (Aircraft Operations) (Amendment) Regulations 2011, 5A. (c), state that no person shall, unless permission is obtained in writing from the Director, fly a kite within five kilometres of an airport perimetre or in any other area that may be specified by the Director.
This area runs from Oistins, Christ Church to Boarded Hall, St. George, Brereton and Six Roads, St. Philip and back to South Point and Oistins. Other areas include Silver Hill, Gall Hill, Kingsland, Wotton, Maxwell, Cane Vale, Newton, Scarborough, Pegwell and Gibbons, all in Christ Church. Kite flying has also been prohibited in Thornbury Hill, Silver Sands, Ealing Park, Wilcox, Lowlands, Coverley and Charnocks. The boundary extends to Pilgrim Road, Fairy Valley, Durants, Callenders, Chancery Lane, Parish Land and Lead Vale.
The St. Philip communities of Gemswick, Mangrove, Heddings, Foul Bay, Ocean City, Diamond Valley and Rock Hall have also been listed in the no kite flying zone.
Any person who contravenes this regulation is guilty of an offence and if convicted can be fined up to $50,000, or imprisoned for 12 months; or can be indicted and fined $100,000, or imprisoned for two years.
Happy Kite Flying Barbados!