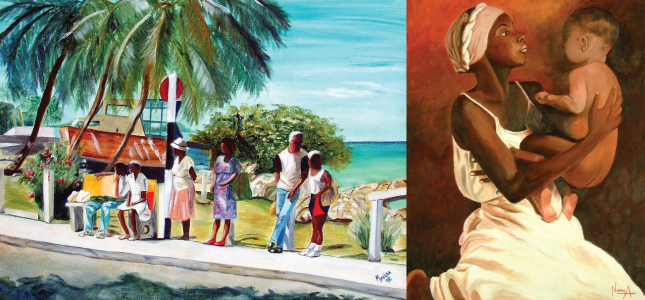 January ended and February opened up to a sea of art when over 40 artists gathered at the Almond Beach Resort in Heywoods, St. Peter for Under the Sun Art Festival. Located on the picturesque Heywoods beach, this resort is surrounded by peaceful aquamarine waters and golden sands, sheltered by tropical trees and plants. As you can well imagine, such environs can only augur well for swimming, snorkeling, water skiing and a host of other water sports activities for you to choose from.
Allow us to now move away slightly from the beauty of nature and into the wonders of art as we can't help but reminisce about the art festival that took place there on Saturday January 31st and Sunday February 1st. Artists and craftsmen were on show displaying works of art that were simply breathtaking. This exciting event allowed many to walk away with a greater understanding and a deeper appreciation of what makes art so very unique and exceptional to us all.
Some of the artists included Marilda Weatherhead, Fielding Babb, Norma Farmer, Marlon Skeete (Ilon), Tanya Foster, Lorna Wilson and Cathy Atkins to name a few.
Such a forum for the arts was the brainchild of Marilda Weatherhead who has an absolute passion for painting and trust me when I tell you that her passion definitely shows in her work. Her mediums are oils, acrylics and soft pastels with a variety of subjects such as ballerinas, banana trees and people being some of her preferences.
Barbados certainly has a lot to offer in the way of talent. We'll be sure to keep you posted on the next Art Festival. After all, you would be out of your mind to miss it.