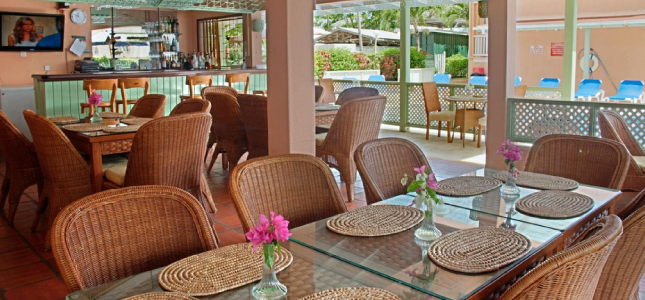 Located at the Worthing Court Hotel on the South Coast of the island, the quaint Bistro is known for its local dishes meals which includes affordable daily specials of curry meat paired with buss-up-shut and traditional fried fish. The dishes are distinctively Caribbean and served straight out of the kitchen with a welcoming smile from Joy, the restaurant's cook. Joy is well-loved by plenty of guests who have stayed at the hotel over the years as well as locals who have made The Courtyard Bistro their favorite lunch spot.
Described as extremely efficient and courteous to all who patronize the bistro, Joy is the owner of this cozy restaurant and offers a great personalized service. Guests to the restaurant can not only relish in the meals cooked homemade style, but can also relax on tasteful wicker furniture with matching place settings. The décor is nicely completed with centerpieces featuring fresh local flora.
It is humorously rumored that popular politicians and employees of neighboring businesses often make early calls to Joy to inquire about the daily menu and place their orders to secure scrumptious hot lunches.
Why not visit the perfect location at the Courtyard Bistro and give us your comments on the cuisine prepared by Joy?
Save
Save
Save